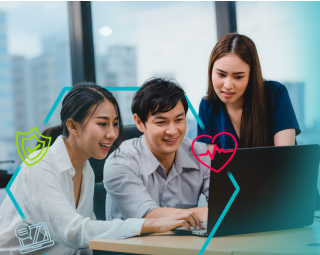 What We Do
ALLCARE is a digital membership benefits company that aggregates relevant worker benefits and provides it to workers who otherwise would not have access to it. As an aggregator, ALLCARE pre-negotiates the benefits designs and inclusions from different providers and makes these benefits available to different types of workers via different membership plans through our digital membership platform.
The Benefits

HMO
₱ 150,000 or ₱ 100,000 per illness coverage in over 1,500 hospitals and clinics nationwide

Life Insurance
Financial assistance of ₱ 100,000 for accidents and ₱ 50,000 for natural causes will be provided to designated beneficiaries upon the insured's passing

Dental Care
Unlimited dental consultations

Annual Physical Exam
Basic 7 annual physical exam including pap smear and ECG

MyBenefits Dashboard and MyBenefits App
Accessible and easy availment of benefits within minutes

Teleconsultation
Free online consultations with Etiqa-accredited medical professionals

Optical Care
Free eye comprehensive exam and discounts on products and services via Sarabia Optical, Vision Express, and Shinagawa Lasik & Aesthetics

24/7 Member Care
Dedicated member care team to assist benefits requests

Mental Wellness Counseling
Two (2) free counseling sessions with licensed mental health professional

Mental Health Assessment
Free psychological test for a comprehensive wellness check

Benefits Marketplace
ALLCARE-exclusive online platform to purchase add-on benefits

Birthday Perks
Free Red Ribbon dedication cake on birthday month
The ALLCARE MyBenefits Dashboard and App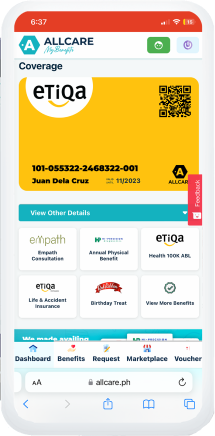 Dashboard
We do this aggregation effectively using our industry-first MyBenefits Dashboard and App. In just a few clicks, members can:
view ALL their benefits
check real-time transaction history
request check-ups
claim benefits, more!
It is designed for fast and easy creation of tailored benefits for customized partnerships, and member profiles.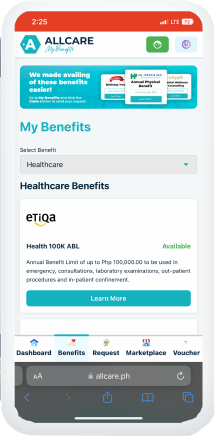 MyBenefits
The MyBenefits Dashboard and App provide all members the ability to access the complete information on each of their benefits and secure coverage approval before they even go to accredited facilities.
Our Growing Clients
Our Community Partners